hello there:) I have been anticipating this giveaway for a wee bit now!I am super excited to share my mom and her gift of sewing with you.
She is giving away this pair of curtains made out of a poly/cotton fabric. They measure 41"x90" with 4 rows of 5" ruffles..all ruffles finished.  They have a 11/2 " rod pocket and are white but she can make them in any color. 
Have you ever struggled with buying window treatments because of the price?  I know I have and that is why my windows never had curtains. we always had naked windows with those ugly metal mini blinds.
You can put an end to naked windows and have Shades Up & Co. create reasonably priced window coverings made just the way you want them!
but more importantly I am letting you know they are NOT out of the average woman's budget!!  You won't have to hide the charge card bill is what I'm sayin!  We can realistically prettify our homes without breaking the budget and that's a good thing.
I had an aha! moment once I started seeing our windows here being dressed so pretty with curtains on what a difference curtains make!! It changes the whole vibe of the room...warms it up..softens..makes a statement and puts that little pop of pretty.
and my dropcloth long ruffled curtain for my dining room...which I am LOOOOVING:)
I have a blog + mom is starting her drapery business again = help share her drapes with all my friends AND have drapes for each window in my house!
a kinda give and take...hehehe!
Which is why I am waiting for this post to let her know my order...see below
2 slipcovers for my ugly chairs...something like this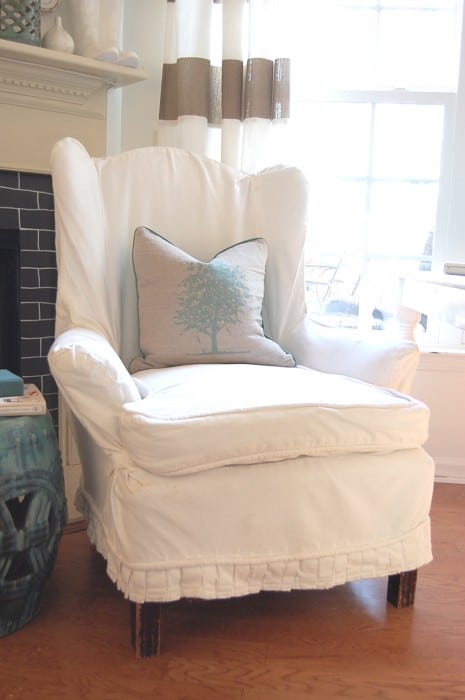 ruffled drapes like these for my living room window only with some fun material ruffles?
and some fantastically fun curtains like these for my bedroom?
sounds pretty fair..;)
I know you are going to LOVE them & her as much as we do:) plus my mom is able to bring to life most any vision you have in your head!!
Here is what you do to ENTER..
For one entry
visit
Shades Up & Co. Etsy shop
and come back and tell us what is your favorite pair of curtains...
all named after her kids and grand kids btw..
For an extra entry
you like
Shades Up & Co's FACEBOOK
page and come back and tell us simple as that.  WINNER will be announced in Friday's POST...  
REMEMBER
we are closing shop November 2 for the year.  Re Opening January 1 with a surprise!!
SO get your orders in by Saturday...if you do order now orders will ship December 16...in time for Christmas:)..xo 
happy Monday...xoxotiff
photo sources in order - -  the nester  - french country cottage -  house of turqoise