does your mind ever race in a million different directions and when you are working on one project and for example you see the laundry -- so you throw a load in and race back to that project only to start another and by the afternoon you have 8 pots in the fire???  oh good! me too.  That is the day I have been having.  You know we refinished our dining/living room floors last week....yeah yeah I will show you very soon:) and I LOVE love the raw wood look of them but what is bugging me big is the furniture. Remember the wing backs we scored several months ago?  well let me tell you that fabric clashes with the floors and it is just plain ugly
My Dilemma
no money to go buy new furniture
SOME SOLUTIONS might be
~throw a sheet over them
~spray paint them...
~have someone reupholster them but unless I can sweet talk my mom into it... that ain't happenin.
~Buy slipcovers from Target or my absolute favorite Etsy shop  Ticking & Toile Linen Shop
~make slipcovers myself and coerce Nikki to help me...wink wink
now you guess which one?:)
:::::::::::::::::::::::
here are some inspiration pictures I've been collecting
I love love the colored pillows too...this is the feel I want for my house!
THIS is soooo pretty..love the bright yellow
sweetness but I am not this good:)
love the long ruffle...thinking this for the curtains though...
love the stripe
if I could afford..how fun is that?
this is what I am doing with the chair legs....
Looks like I have a course of action doesn't it?...and I am not a seamstress and my plate is already full and just the thought overwhelms me but what is a girl to do
when I am at the point of throwing them outside and setting a match to them?
Turn to the one who coined the phrase " it doesn't have to be perfect to be beautiful "
that is enough for me:)
How to Make Slipcovers by the Nester
hers is as ugly as mine...lol
after reading through the how to's...I am a little more than scared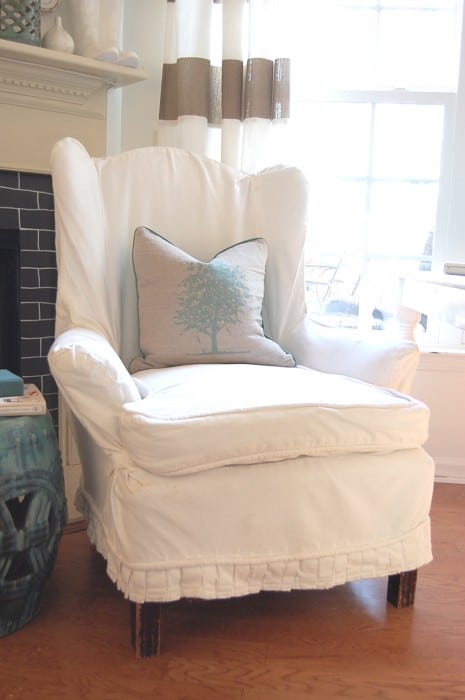 ok..what do you all think?
Have you ever slip covered anything in your life?  If so - would you do it again?  was it hard?
xotiff
Sources  ( Better Homes & Gardens)  ( Better Homes & Gardens )  ( Miss Mustard Seed )  ( Junk Garden Girl but not original source..couldn't find )
( my Christmas )  ( Simple Thoughts )  ( Wydeven Designs )  ( The Nester )