Oh sweet friends!  Welcome to our 'old' new home.  This is my first post since moving two weeks ago.
I am so glad you stopped in.  I just pulled from the oven some of my Butterscotch, White Chocolate, Pretzel Oatmeal cookies
won't you have one as you look around?
 Call  us over achievers but in the last two weeks we've moved ( twice in the last 3 months) and we wanted
so much to participate this years Holiday Parties.  Nikki & I have literally busted our bums and we
are happy happy and so humbled at what we've accomplished so far.
It took Pinterest;) + elbow grease + LOADS of grace = one happy little family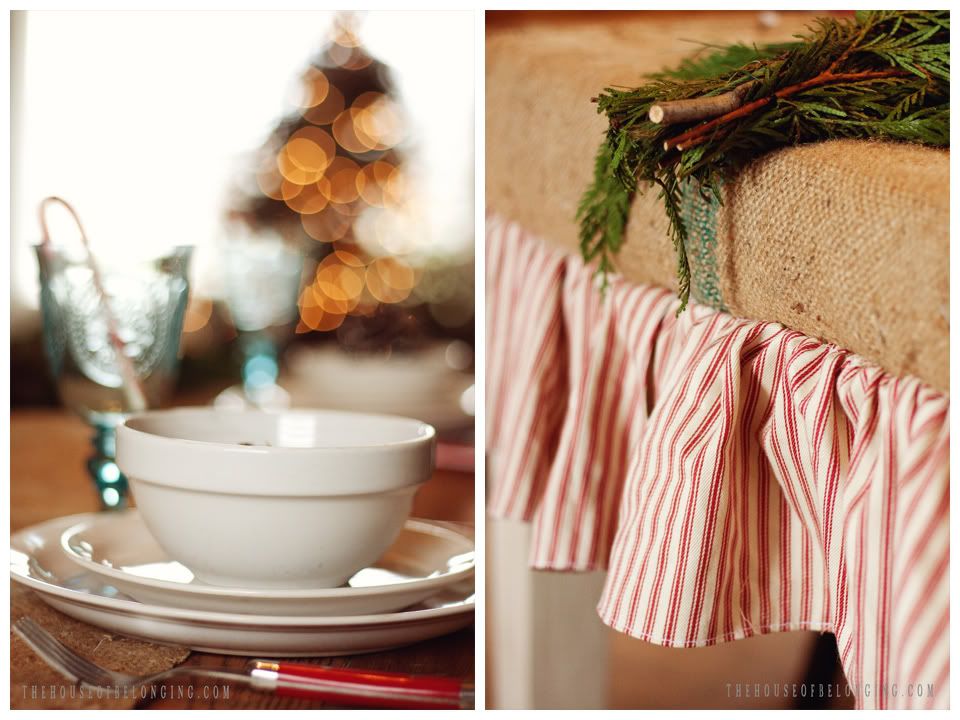 Our vision is a mesh of country"ish" cottage old fashioned Christmas.
I sewed the table runner out of burlap grain sacks and old curtains we had in boxes.
White dishes are framed by red silverware and some turqoise plastic globlets from Target.
Red & Turquoise are two of our accent colors we are using in our decor too.
The furniture piece in the dining room is the kids Nana's dads piece and isn't she perfect?
Nikki picked up the evergreen wreath from Home Depot for 5 dollars one day.
We have been living at Home Depot lately...more on that later;)
' DREAM ' hangs there as a reminder that dreams do come true and
God has a DREAM for me and the kids and this house is a part of that story.
God has a dream for YOU too.  I hope I can be an encouragement to you in your dream.
I painted and framed the reindeer sign in aqua with a red nose
To cover the ugly old door we threw a coat of chalkboard paint up and we have a fun idea that
we are going to do to the door real soon..until we can afford to buy a new door:)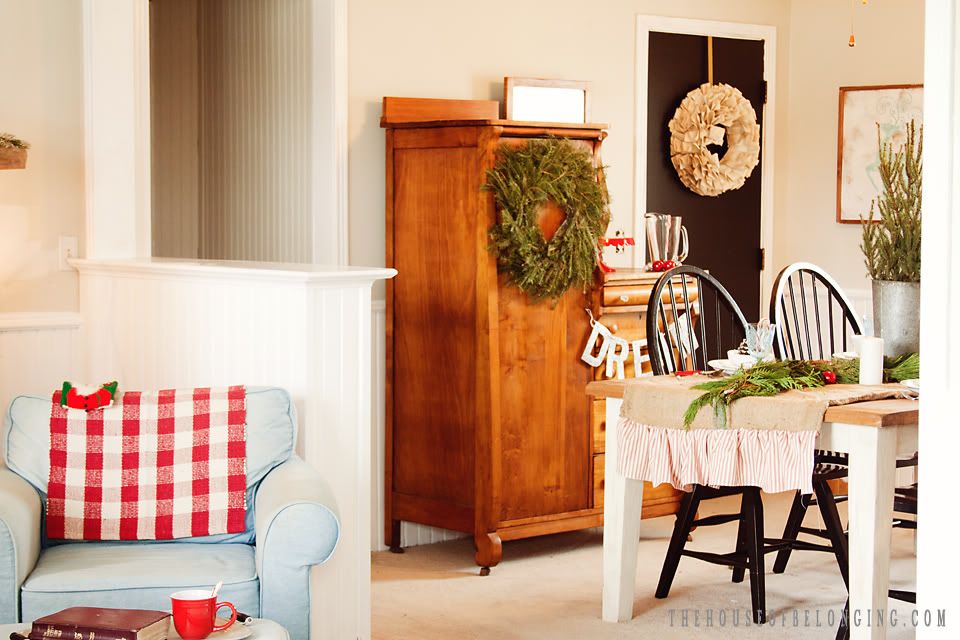 I have more to share in the upcoming parties.
I will be linking a Family Heirloom Christmas Stockings with a tutorial on the craft linkup.
For those of you who have been following me there have been so many changes that I can't wait to share them
all with you.  The house, a physical space for House of Belonging down in what we call the West Bottoms that opens
February 3!!
 8 weeks girls..8 weeks.  I have SO much to do to get ready and will take all of you with me.
It is GOD and YOU... your support and prayers..His grace..strength..love and protection.
I am beyond grateful for each and everyone of you.
MUCH more to come.
We have a house to gut and remodel and refresh..and it has been in the kids family for over  30 years...
ok I will share all of that soon.
Now of to grab some hot chocolate and Nikki and I are going to sit and enjoy all of the other table parties!
A big thanks to Layla : the hostess with the mostess
the story is just beginning...
xo~tiff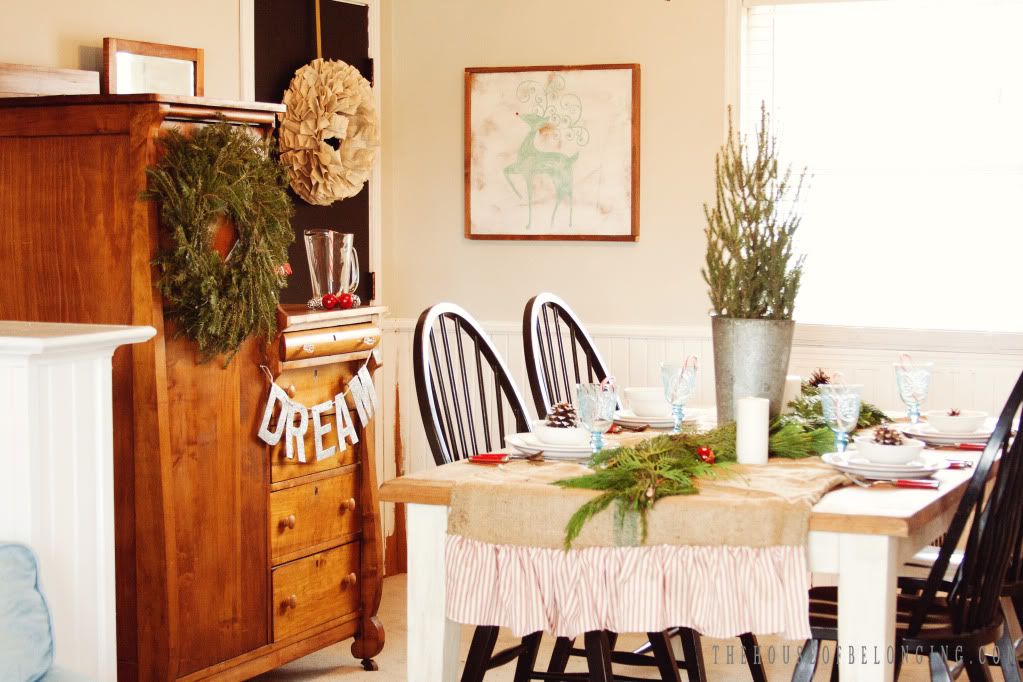 :: two weeks ago...literally!::
Under The Table and Dreaming You're talking to much... A bowl full of lemons Home Stories A-Z UncommonlyYours No Minimalist Here The Inspired Room It's Overflowing
all photos taken by my lovely daughter Nikki:) love and appreciate you!