We have been having technical issues with our theme so I am just going to give a little blurb on what God is doing in my heart and it involves all of you.  I don't have all the kinks ironed out yet but here is the beginning...
shelter
of

story
Shelter of Story is going to be a traveling book that will come to you upon linking up here.
Guidelines are coming by the weekend.
Nikki has a button that you can put in your blog post when you linkup to receive the book.  The code is on the Shelter of Story
page.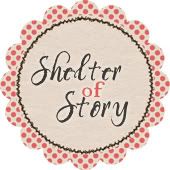 I envision this book being used by God to help cheer women on to whole-souled-ness...real, raw, messy and vulnerable story told by brave women who have been there and back only by the grace of God there go I...kinda book.  written by You for them...
**********
I copied my Warrior Prayer book and am all set for Friday! are you?  If not, click here to join us in 21 Days of Praying for Sons .
Please email me if you have ANY questions. I know it is vague at the moment but I promise to work today and tomorrow and put more information out so we can get a move on OK?  love you much...
A linky is open if you would love to share any words today.  Just link up your exact URL to your post and link back to House of Belonging somewhere so we can find each other. Praying your day be filled with the child like wonder of Jesus.
XO,