I've S L O W L Y been working on signs. words actually.  I was inspired by Tara and her Family Rules Sign.  I feel so strongly about words and the power they have over us.  I've got more but I wanted to offer this one as a giveaway tomorrow on our Word Women Wednesday...to one of you. My friends.  Fellow Word Women.
and here are the purple tulips that I have been enjoying....
and here is " my version " of the Family Rules sign. When I look at the words my heart is reminded of their meaning and I smile.
'
Come back tomorrow and visit for a chance to enter for the Word women sign and sit a spell with Lissa @ Humble Pie. I highly encourage you to read her post from today.  It is SO true! I feel this way myself.  You can get so wrapped around this blogging thing that you are not living life anymore. Please...go read it. See you tomorrow:)
XO,
Sharing over at Jen's with the Soli Deo Gloria Sisters...hope to see you there:)
and Kellie @ This Blessed Nest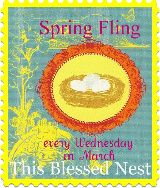 and JRU Studio!