We have to trust that our stories deserve to be told. We may discover that the better we tell our stories the better we will want to live them. ~Henri Nouwen
She's passion, she's broken, she bleeds words, she is a warrior and intercessor, she is His child, a wife and a mama and I am SO blessed to  have her in my life...meet Abby @ Fan the Flame. She is allowing her life - her families life...to be written by Him...living in the words He breathes over her...she embodies them and breathes them out ... altering the space around...meet Abby at the intersection of fear vs. faith.
Who Does This?!...The Unraveling of Missionary Clothes
"26 Brothers and sisters, think of what you were when you were called. Not many of you were wise by human standards; not many were influential; not many were of noble birth.
27 But God chose the foolish things of the world to shame the wise; God chose the weak things of the world to shame the strong. 28 God chose the lowly things of this world and the despised things—and the things that are not—to nullify the things that are,
29 so that no one may boast before him.
30 It is because of him that you are in Christ Jesus, who has become for us wisdom from God—that is, our righteousness, holiness and redemption. 31 Therefore, as it is written: "Let the one who boasts boast in the Lord."
~I Corinthians 1:26-31
We are THOSE missionaries.  The ones that have all of the answers and are FULL OF FAITH and fearlessly wield machetes if called to tribes in jungles and…
Well, I'm sure you know better and I share with you to say that it's a messy journey just like yours.  He holds us and gives us (especially ME) unending Grace as we walk this unknown path in preparation for a move to Budapest, Hungary to minister to high school students long-term.
Here's a peek into one of those times when all of the pretense unravels and it gets REAL.
Once upon a December evening, I was heard talking exactly like this with to my husband:
"I am not going to make it moving overseas.
I am a SPAZ…A MAJOR SPAZ…JUST ASK MY TWIN…she's dealt with it the longest…
I am not brave like the other 'missionary moms' that I know and love who fearlessly conquer foreign roads, doctors, schools, languages (I'm good with those, but this is one of the hardest in the world!)
I don't remember how to drive in the snow…it doesn't snow in Florida where I've lived for 2.5 years! (as if it's an eternity)
I will need to be a rock for my kids, but all they will have is a blubbering fool!!
I mean, Who does this??!!
Who leaves friends that seem picked from Heaven for you…that have become your children's and your family…literally growing up together??!!  Who does this??!!
I. want. to. stay.  I want to do the rational. conventional. comfortable.  Really, really I do.  Please pick me for this.
High school kids are really needy here, too, Lord, please let me stay.
I love my friends, house, life…I love it all.
Honestly, Who Does This??!!
This makes no 'sense'…It's the stuff of lunatics and the lost-a-few-marbles' folks.
What are we thinking???!!  Who Does This??!!
I want to stop feeling transient.  I have two little kids, don't I deserve the right to nest a home?  Can't I be reading blogs with 'fun project' tips and be turning trash into treasure?! (I do think these are wonderful, by the way!) Not the ones that keep me dealing with my fears, struggles, wanderings (my trash) and having. to. trust. Him. to make it treasure.
Please, Lord, take me out of this rising, roller coaster, I want OFF…I am sea sick from the wind and the waves…Lord, please!  Can't I just stay. comfortable??!!
Seriously, Who Does this??!!"
Sometimes the human flesh needs to voice itself in the midst of closest community and co-journeyer, husband…to see it's. all. true.
I am the one who wants to stay comfortable. Don't. Rock. This. Boat!!!  I am the one who KNOWS she isn't strong enough for any of this.  I am the one who can get afraid of the littlest things and lacks the metal to endure change…I am the one who would be most likely to stay. safe. comfortable.
But, I am the one He has called.  I've learned to say 'Yes' to Him.  Though, often, I find myself taking steps I never could imagine in the days where fear and comfort hold the upper hand.
These moments of flesh realizations spur frantic outbursts where I don't want any of it.  'No Lord. No stepping forward.  Continuing in faith.  Please, not me.  Someone else.  I don't want to do the crazy thing…Not me.'
Some of the wisest words that I have ever received came when I looked at the 'mountain' of support WE. NEEDED. TO. RAISE. for our year internship in Hungary and said to the Director of the ministry there "I CAN'T DO THIS…NO."
And he very calmly continued, "Well, if it was something you thought you could do, where would you need God?"
It was as if the holy hush of the Spirit descended upon me and I was quieted and knew.  This, then, is the thing I must do, because I will need God.  And if I am always strong and confident and comfortable, how am I ever going to need God?
Who Does This??!!!  I do.  Because He. Is. And. Does. It. All.
Does your faith journey ever look like this?  If so, what  or who has the final say?  Fear?  Or Faith?  You? or Him?
Please share your story today of fear vs. faith.  You or HIM?  It can be a new post or an old one. Have you ever been at this intersection before?  Please link your direct URL to the exact post.  If you would be so kind to put the Word women button or a direct link back here in your post so we can share stories...would you?  Please visit others and encourage them on their journey of faith.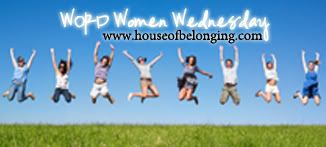 ********************************************
Tara @ Between You & Me is celebrating her FIRST blog birthday & is having a giveaway.  She is giving away one of  her very own creations....Her FAMILY RULES sign.  It is beautiful.  So please go over and say HI and comment to enter and say Happy Birthday!